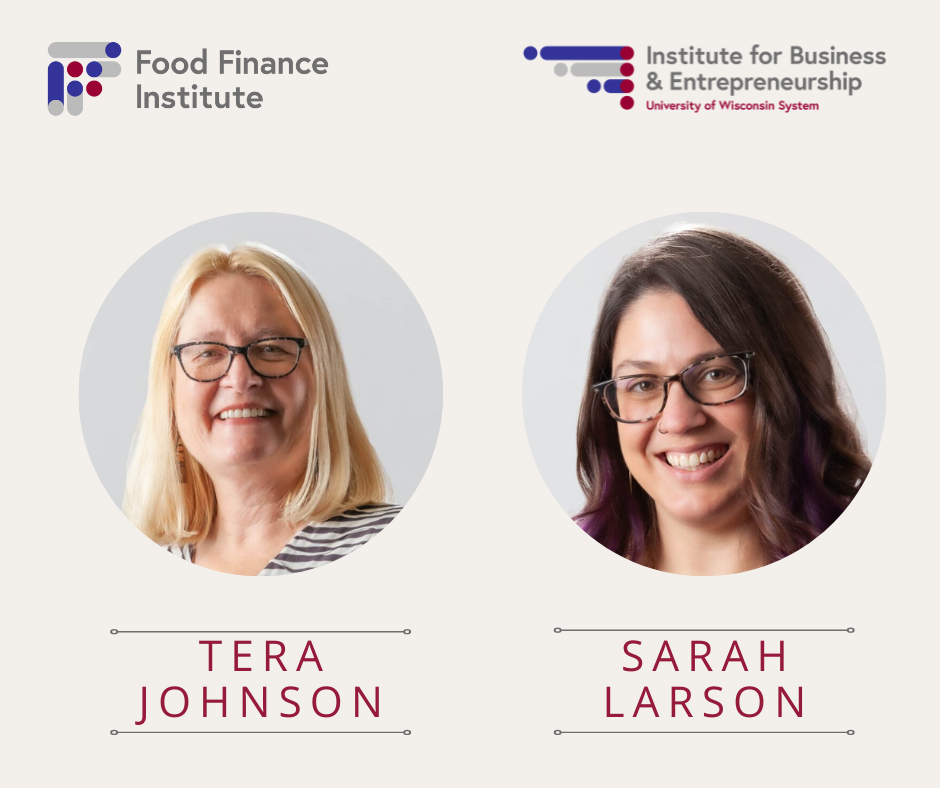 MADISON – Tera Johnson, who founded the Food Finance Institute (FFI) in 2014 to make sophisticated financial technical assistance available for every growing food, value-added agriculture and food systems enterprise, is leaving her position. Sarah Larson, FFI's program manager, will take over as interim director starting Sept. 1.
Johnson, a serial entrepreneur whose mission is to create the next generation of environmentally and economically regenerative food and farming businesses, has been named CEO of the Iroquois Valley Farmland Real Estate Investment Trust (REIT) in Evanston, an organic farmland finance company.
"We've built national reach and established credibility through our proven in-person and online training models," Johnson said. "Sarah was my first employee at the company I founded before FFI, Simply Tera's. I am confident that the FFI team will carry forward our mission and continue to flourish. Over the last three years, Sarah has been by my side to develop solid programs, deliver top-notch technical assistance and secure new funding sources."
FFI has trained more than 600 people from more than 500 organizations across the country through financial management boot camps, the FaBcap Accelerator and companion MVP Workshop Series, and business consultant training. In addition, FFI has provided technical assistance and coaching to more than 230 businesses.
Johnson also launched Edible-Alpha®, a digital resource hub providing actionable insights, training, resources and tools at www.edible-alpha.org. One of the most visible Edible-Alpha® products is Johnson's podcast. Her interviews with entrepreneurs, bankers and investors have been downloaded over 45,000 times by listeners in all 50 states and eight countries.
A frequent speaker, teacher and financial consultant to sustainable food and farming businesses, social venture funds and investors. Johnson earned the 2017 UW-Extension Chancellor's Wisconsin Idea Award.
"Tera developed and optimized a critical collaborative support network for growing small businesses and those who support them," said Mark Lange, executive director of the UW System's Institute for Business & Entrepreneurship, FFI's home. "Her commitment will transition to a new role on the advisory FFI Vision Team."
Larson has been responsible for managing day-to-day operations as well as grants and special projects since January 2019. She has more than 15 years of experience working with food, including Death's Door Spirits, Tribe 9 Foods and Simply Tera's.
"Tera has shaped an incredible organization, and I am honored to carry our work forward through this transition." Larson said. "FFI has attracted a talented team of passionate professionals who will continue to deliver the same caliber of training, programming and technical assistance."
About Food Finance Institute
The Food Finance Institute (FFI) leverages and supports a collaborative network of professionals focused on building and funding profitable businesses in the food, beverage and value-added agriculture sector. Through training, coaching, resources, tools and mentorship, FFI fulfills its mission of making sophisticated financial technical assistance available to growing enterprises. In addition, FFI is the home of the Edible-Alpha® brand. Edible-Alpha® is a digital resource hub that includes the Edible-Alpha® podcast and our insights newsletter. FFI is part of the University of Wisconsin System's Institute for Business & Entrepreneurship. www.wwwtest.foodfinanceinstitute.org