Crafting a Vision for the Next Ten Years of Food and Beverage
September 20, 2023 | Milwaukee, WI
2023 marks 10 years of FFI's support for food and farm businesses in Wisconsin and beyond. At the Food Finance Forum, we will showcase the past decade of FFI's investment in food while simultaneously looking forward, exploring next steps for building a stronger, more resilient, and diversified food and farm sector.
Please join us to connect, converse, celebrate, and learn—working together to cultivate an empowering future for food businesses and the communities they serve.
September 20, 2023
Food Finance Forum | 9 a.m. – 4 p.m. Central | River Valley Historic Venue
FFI is excited to host a full day of networking, business presentations, expert panel discussions, and roundtable discussions centered around food and beverage. The day's events include:
Opening remarks from Missy Hughes, secretary and CEO of the Wisconsin Economic Development Corporation (WEDC)
"Financing Food Brands that Work," a panel discussion with the founders / chief officers of:
"Future of the Sector," a panel of industry experts that discuss what's next for food and farm industries
Please join us as we explore the past, present, and future of food at this special event. A catered lunch will be provided. More event details coming soon.
FFI's 10th Anniversary Celebration | 4 – 6 p.m. Central | City Lights Brewing
Please join us for a celebratory happy hour to acknowledge 10 years of FFI's good and fulfilling work to move more money into food and agriculture. Snacks, beverages, and good times will be provided.
September 19, 2023
Pre-Event Food Business Tour | 1 – 6:30 p.m. Central | Various Milwaukee Businesses
Kick off the event with a fun, lively, and educational tour of local Milwaukee food businesses! We will visit four food businesses that have worked with FFI to learn about their unique business histories, paths, and products. To wrap up the tour, we'll indulge in a pizza happy hour at Palermo Pizza. Space is limited. If you are interested in attending, please indicate so on your registration form.
Need a Hotel?
Book here to get a great rate!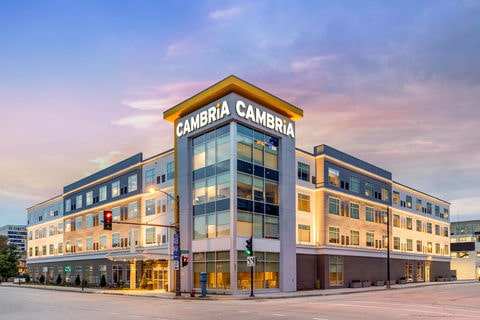 We know that many of our guests will be traveling long distances to join us. We appreciate you making the trip!
We have rooms reserved at the Cambria Hotel Milwaukee Downtown for this event. Our special rate of $109/night is available for September 19 and 20.
You must book by Friday, August 18 to receive this rate.