A hybrid café where people want to stay — like Starbucks but with WINE!
A third place between work and home that specializes in dessert and wine, Chocolaterian Café, founded and owned by Leanne Cordisco, is a European-style patisserie.
Whirlwind Beginning
Chocolaterian Café, a successful growing business with two locations, started as an idea in 2009 to produce a wine accessory to protect bottles while traveling. On a Monday Cordisco decided to pursue an angel investor, and eight days later, she was in a pitch meeting with Sam Jacobsen, founder of PDQ.
Impressed with Cordisco, Jacobsen had a pitch of his own: to open a candy business he had been dreaming of for decades. Of the experience, she says, "Say yes to opportunity! I walked into his office thinking wine, and I walked out owning half a candy business, having never made candy in my life!"
Listen to our podcast interview with Leanne
How To: Candy
Jacobsen and Cordisco wanted to use Wisconsin ingredients so the logical step was to make toffee with Wisconsin butter, and Christine's Toffee, named for Jacobsen's mother, was born. The Wisconsin Women's Business Initiative Corporation (WWBIC) provided the founders with the initial toffee money.
What turned out to be their sweet spot — and claim to fame — was Bacon Toffee. Inspired by the immense coverage of chocolate-covered bacon at the Wisconsin State Fair in 2010, they developed the product, started selling it wholesale and garnered the attention of the Emmys, which included Bacon Toffee in the 2011 celebrity gift bags. Then things really took off, with orders from seven airports as well as grocery stores, precipitating the need to expand beyond the test kitchen they were using in Madison.
While looking for kitchens to expand to in 2012, Cordisco found a great open space on Atwood Avenue. Cordisco decided to transform it into a patisserie, rather than just a kitchen for wholesale, where she decided to learn to bake the day they opened!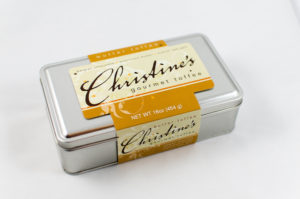 Motivation from Candy, Wine, and an Expert or Two
While sitting in Chocolaterian-Atwood, Cordisco wanted to remove existing debt, buy out a business partner AND build a second location. Expense projections were reaching $800,000 and doubts were beginning to arise as Cordisco had yet to learn that growth isn't two times the money and time, but rather three times or more.
As Food Finance Institute's Tera Johnson told her at the time, "This is what growth looks like. In five years you will look back and laugh because this is what everyone who is successful has had to do."
Cordisco estimated that FFI's Johnson saved her two months of work and $8,000 to $10,000 in fees through her advice, experience and expansive network. Johnson set Cordisco up with private investors, financers, an attorney and a Wisconsin SBDC financial expert, all looking to support food start-ups.
The introduction to Daniel Lemmer, Wisconsin SBDC's Northeast Outreach consultant, advised her to develop a business plan for two shops over five years. "I love to work with clients who want to understand, develop and build their own business plans. Leanne is that client," Lemmer said. "I know she will execute her plan because it is her plan, not because it is something I did for her. I can't wait to work with her again!"
When Cordisco was stretched after using up her cash in a cold winter, Johnson was there to assure her that she would be fine because, as Cordisco said, "Tera is so plugged in that she can reassure and warn you about similar situations without disclosing private information. Tera provides continued mentorship and support with her 'been there done that' mindset that allows you to believe in yourself and your vision because she believes in you."
Tera was right, as Chocolaterian-Middleton opened in June 2017, but not without challenges and some doubts. Alex Aulisi was the 'calm in the midst of the storm,' helping Leanne to expect the unexpected and navigate without discouragement. Aulisi had been a friend and adviser through the process of expansion and officially joined the team in August 2017.
Embracing the Wisconsin Idea: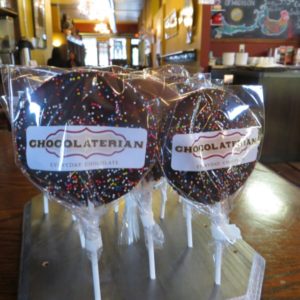 What keeps Cordisco rooted in Dane County?
The amazing local raw ingredients;
The food culture;
The Madison philosophy of small businesses solving problems together;
The cooperation of restaurants to work together for events;
The hyperawareness that good food starts with farmers and extends to customers; and most of all
The Wisconsin Idea of having a collaborative network willing to be a part of a statewide experiment.
"When people, banks, and organizations see the 'it' factor, they are willing to fully back someone they believe will be successful because confidence and belief are essential." Cordisco explained, "I have never met my attorney nor Lemmer in person, yet I feel I have their full support anytime I need it."
What's Next: 'Global and Iconic'
Eight years after her idea for a wine accessory, Cordisco runs two patisseries that have won Best of Madison awards, with projections of $1 million in sales for 2017.
In the near future, she is in pursuit of another location. Beyond that, Cordisco is thinking much bigger. She hopes to go global in 10 years, and she knows site and channel expansion are inevitable. So, as an official business partner with experience in corporate marketing, Aulisi is tasked with exploring channel, site, and internal expansion to increase revenue. Cordisco and Aulisi want their products to be iconic, saying, "Our other main goal is to make our signature Ugly Cookie as recognizable as Wisconsin Kringle."