A nationally renowned leadership master class for small food-focused businesses is coming to Madison Oct. 4-5.
ZingTrain, which fosters leadership and builds organization culture, is the training arm of Zingerman's of Ann Arbor, Mich., a well-known community of food-focused businesses.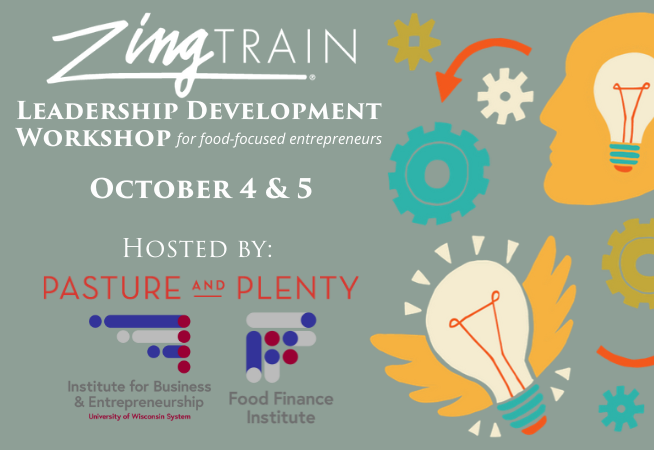 The cost will be free for 25 participants thanks to a collaboration between the Institute for Business & Entrepreneurship's Food Finance Institute (FFI) and Pasture & Plenty, a meal kit service and farm-to-table deli and catering company on Madison's west side.
Christy McKenzie, owner of Pasture & Plenty, has been inspired by this kind of online programming for years.
"Zingerman's trainings have been integral to shifting the culture within my business," McKenzie said. "What I have learned has helped me foster a more positive culture and connection toward the impact of the business. I decided I wanted to bring Zingerman's to Madison so my team and other businesses would have the opportunity to learn the tenets of human-centered leadership in person."
In this 1.5-day training, entrepreneurs will gain practical and proven tools that strengthen systems and build healthy organizational culture – served with a hearty side of personality and great food. Topics include servant leadership, visioning, mindful self-management and bottom-line training.
The Food Finance Institute regularly references Zingerman's success and management practices in its suite of trainings for both entrepreneurs and consultants. "They are a perfect partner to both help bring this training to Madison and sponsor the event to ensure the training is accessible," Acting FFI Director Sarah Larson said. "In addition, FFI staff have first-hand experience with the impact these trainings can have."
FFI Partnership Manager and owner of Still Point Farms, Penny Molina, attended a training by Zingerman's and learned "so much to help us run our farm business along with invaluable interpersonal life skills.
"What they offer is priceless for anyone interested in building a business, brand or team," Molina said. "They offer unique insights, proven techniques and powerful ways to inspire you.  Zingerman's training is a win-win approach that has success written all over it. "
To indicate your interest in applying, complete the interest form here.  
About Food Finance Institute
The Food Finance Institute (FFI) leverages and supports a collaborative network of professionals focused on building and funding profitable businesses in the food, beverage and value-added agriculture sector. Through training, coaching, resources, tools and mentorship, FFI fulfills its mission of making sophisticated financial technical assistance available to growing enterprises. In addition, FFI is the home of the Edible-Alpha® brand. Edible-Alpha® is a digital resource hub that includes the Edible-Alpha® podcast and our insights newsletter. FFI is part of the University of Wisconsin System's Institute for Business & Entrepreneurship. www.wwwtest.foodfinanceinstitute.org
About Zingerman's
Zingerman's is a community of 10 unique businesses, with 700+ employees and over $65 million dollars in annual revenue. During their nearly 40 years in business based in Ann Arbor, Mich., Zingerman's has been recognized nationally not just for their exceptional products and customer service, but also for their unique business model. ZingTrain is the training arm of Zingerman's that shares the best practices and tools Zingerman's leadership uses every day to build organizational culture and improve bottom-line results.