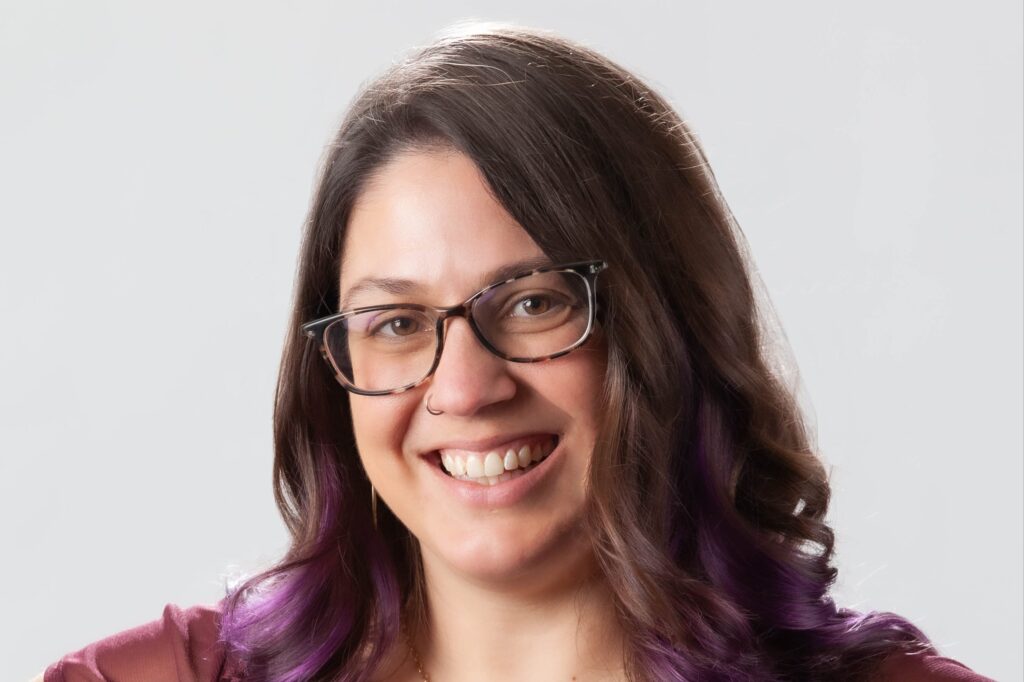 MADISON – Sarah Larson, who has been serving as the interim director of the Food Finance Institute (FFI) since 2021, has been hired to serve as FFI's Director as of June 18. In this role, Larson will continue to advance FFI's mission to make sophisticated financial technical assistance available for every growing food, value-added agriculture and food systems enterprise.
"It's an honor to be trusted with stewarding FFI's mission forward," said Larson. "With the strong foundation that has been built over the last ten years, along with FFI's experienced and passionate team, I know we can continue to help money and expert support flow into food and agriculture."
Larson has over 20 years of experience working with food in both the private and public sector, including Death's Door Spirits, Tribe 9 Foods, Simply Tera's, the Wisconsin Department of Agriculture, Trade, and Consumer Protection, and REAP Food Group. In 2019 she joined FFI to support day-to-day operations, grants and special projects. Since then, Larson has helped expand FFI's national reach of support for food-focused entrepreneurs, organizations, and consultants.
Throughout the past five years, FFI has trained more than 1,600 people from more than 1,200 organizations across the country. FFI's immersion trainings (including Financial Management Boot Camps, Scenario Planning, and Raising Equity), the Fellows Program, the MVP Workshop Series, and business consultant trainings have been instrumental in FFI's efforts to build sustainable food-focused businesses.
As a result, FFI clients have secured a combined capital infusion of more than $15 million and FFI has helped dozens of food, beverage, and value-added farm enterprises embark on a path to profitability.
"The Institute is thrilled to have Sarah lead FFI's efforts within the food and farm business sectors," said Bon Wikenheiser, the recently appointed Executive Director of the Institute for Business and Entrepreneurship. "FFI has built on its strong foundation, and is creating new and innovative services and partnerships focused on growing these important, local small businesses. Sarah has the knowledge, foresight, and passion that will drive FFI's growing impact in the years to come."
Larson has also been instrumental in leveraging new and growing partnerships to strengthen food and farm sectors. In May, FFI announced it would be a key partner in The Great Lakes Midwest Regional Food Business Center, a USDA-funded initiative that aims to develop local and regional supply chains in Wisconsin, Illinois, Michigan and Indiana.
"Wisconsin has so much talent and innovation, both through stakeholder partners and entrepreneurs," said Larson. "Working in partnerships helps us best harness and leverage resources to increase access to food-focused entrepreneurship and build more resilient businesses."
Looking ahead, Larson embraces the opportunity to leverage her experience and expertise to support food-focused businesses and partners aimed at creating a better world through food and agriculture.
Larson said she looks forward to working alongside FFI's internal team, as well as its diverse partners and stakeholders to expand and strengthen FFI's impact.
"Food and agriculture have the unique ability to create positive impacts across individuals, communities, and the planet. The sector is ripe with opportunity and primed with individual and collective innovation that can attract capital, create opportunity, and improve communities. It is full of an ecosystem of supporters who carry a vision for what the future of food holds. We look forward to crafting a shared vision with our partners and supporters, aligning our goals and optimizing our efforts to carry the sector forward."
About Food Finance Institute
The Food Finance Institute (FFI) leverages and supports a collaborative network of professionals focused on building and funding profitable businesses in the food, beverage and value-added agriculture sector. Through training, coaching, resources, tools and mentorship, FFI fulfills its mission of making sophisticated financial technical assistance available to growing enterprises. In addition, FFI is the home of the Edible-Alpha® brand. Edible-Alpha® is a digital resource hub that includes the Edible-Alpha® podcast and our insights newsletter. FFI is part of the University of Wisconsin System's Institute for Business & Entrepreneurship. www.wwwtest.foodfinanceinstitute.org
About the Institute for Business and Entrepreneurship
The University of Wisconsin System's Institute for Business & Entrepreneurship helps entrepreneurs, businesses and economic development professionals across the state to achieve their goals through expert consulting, educational resources and a dynamic statewide network. Through five distinct program units, the Institute helps Wisconsin businesses perform at their highest levels. The Institute is Wisconsin's hub for specialized resources — many at no cost — to help business owners grow. https://wwwtest.business.wisconsin.edu/